Bold Text
Fon Flash - Windows
Introduction
Fon Flash is currently one of the easiest method for installing Gargoyle firmware on compatible routers (Atheros AR231X/531X but not including Ubiquiti routers).
Prerequisite
On Windows you will need to first install WinPcap. Vista users may also need to install MSVC++. I am currently working to recompile Fon Flash for Vista, to eliminate this latter dependency, but for now this is necessary for Vista Users.
Download
Download "Fon Flash" from here
Run Fon Flash
Once downloaded double click "fon-flash-gui.exe"
Note: Vista users will need to run as administrator.
Enter Details
Select Firmware Type
For Gargoyle select "openWRT/Gargoyle"
Select Network Interface
Select the network interface card which is plugged into your gargoyle router
Select Rootfs file
gargoyle_x.x.xx-atheros-root.squashfs
Select Kernel file
gargoyle_x.x.xx-atheros-vmlinux.lzma
Routers like Meraki Mini require
gargoyle_x.x.xx-atheros-vmlinux.gz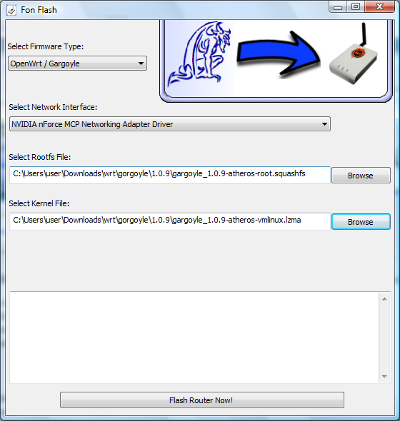 Full Flashing Procedure
Install WinPcap (only necessary for windows)

Connect the ethernet cable from the AP51 router (ROBIN) to your computer

Power off AP51 router (unplug)

Start FonFlash

Select Firmware Type

Gargoyle/OpenWrt/ROBIN

Fonera Firmware

DD-WRT

Select the ethernet device you are using

Select the Gargoyle/ROBIN .squashfs file as the root file

Select the Gargoyle/ROBIN .lzma file as the kernel file

Hit the Start button

Wait 5 seconds

Power on the AP51 router

Wait 10 minutes - 30 minutes, until FonFlash reports that the router has been flashed

Wait another 2-3 minutes while the router reboots