3g/UMTS USB Dongle
Introduction
Gargoyle 1.5.1 and above now supports 3g/UMTS USB Dongles for WAN access to the internet from your wireless ISP provider.
Supported Modems
Prerequisites
To be able to use a 3g with Gargoyle
Your Gargoyle router must have a free USB port.

You need 3g/UMTS USB Dongle

An active account with you 3g provider

Routers with at least 8MB of Flash and 32MB of RAM.
Set-up
In your router configuration select
Select 3g
–» Connection –» Basic –» Internet/WAN –» Connect via:
Select 3g (GSM) from the pull down box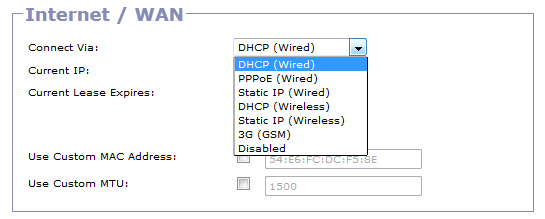 If 3g (GSM) is not displayed you will need to plug in your 3g/UMTS USB Dongle wait a couple of minutes then refresh your browser.
Enter 3g provider details
You can either manually enter your provider details or select your provider from the drop down "Mobile ISP:" box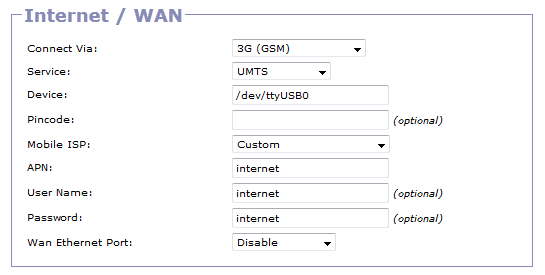 Service
service depends on the services (eg Orange in Poland allows you to connect GSM/UMTS (HSPA) and CDMA).
Device
Select USB port
/dev/ttyUSB0

/dev/ttyUSB1

/dev/ttyUSB2

/dev/ttyUSB3
If you don't have SSH access to your router you will have to guess which port your modem manufacture uses
ZTE
/dev/ttyUSB2
huawei
/dev/ttyUSB0
sierra
/dev/ttyUSB3
Pantech
UMW190
/dev/ttyACM0
Pantech
UML290
/dev/cdc-wdm0
Pincode
PIN is on the sim card. This may or may not be used.
Mobile ISP
Manual or select your provider
APN
Access Point Name (APN) is a computer protocol that typically allows a user's computer to access the Internet using the mobile phone network.
New Zealand APN
Telecom
internet.telecom.co.nz
2degrees
internet
Verizon
mw01.vzwstatic (Static IP in Midwest)
vodafone
www.vodafone.net.nz
User Name
optional, provider dependant
Password
optional, provider dependant
WAN Ethernet Port
When using 3g select which option for your spare WAN Ethernet port
Trouble Shooting
From command line install picocom
<shell> opkg update opkg install picocom </shell>
Connect to your 3g dongle
<shell> picocom -b 115200 /dev/ttyUSB0 </shell>
Change to your 3g port (USBx). If you get he wrong port you will get this error at he end when you type anything.
<shell> Terminal ready
FATAL: write to term failed: Resource temporarily unavailable root@Gargoyle:~$ </shell>
or when nothing is plugged in (3g dongle) <shell> FATAL: cannot open /dev/ttyUSB2: No such file or directory
</shell>
success will look something like this
<shell> +ZDONR: "Telecom NZ",530,5,"CS_ONLY","ROAM_OFF"
+ZPASR: "HSUPA"
+ZDONR: "Telecom NZ",530,5,"CS_PS","ROAM_OFF"
+ZPASR: "UMTS" </shell>
ZTE modems